St Mary Of The Plains Academy, High School and College
Classes Of 1953 - 1993

Official Alumni Web Site For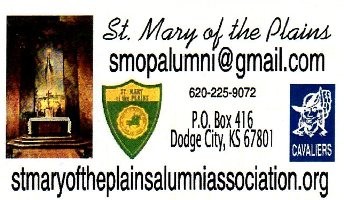 To register click on "Classmate Profiles" on the Left menu bar. Then click your year, and then your name. Your name may be listed as your maiden name or married name.

High School Classmates Only
When you register you will see an ( * ) asterisk followed by 2 spaces before your last name. Please leave (or replace if accidently deleted) these characters when you join the site. The reason: The asterisk puts your name in the high school listing for your year. If you remove it (no harm done) but your name will drop down into the college list of names. If you have problems email me.
1953-69, high school names are listed above college names.
The
SMP Merchandise Store
is now open for business.

Click on the SMP Merchandise tab in the left menu bar.


Need a SMOP transcript? See the "First" anouncement below, for a printable form.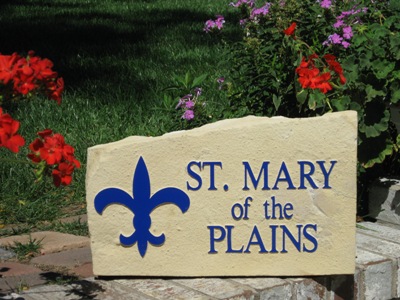 January Update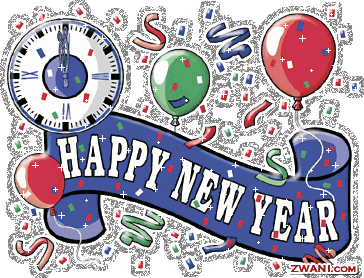 Dodge City Daily Globe
CFSK awards third grant to SMPAA's
Vietnam Memorial project
The Community Foundation of Southwest Kansas has awarded a $3,000 grant to St. Mary of the Plains Alumni Association (SMPAA) that will be used to enhance the Vietnam Memorial project launched in September 2019 and dedicated in June 2021. The monument has been placed on the former SMP campus in Dodge City.

The alumni association is accepting donations for the project's completion and they may be sent to the SMPAA, P.O. Box 416, Dodge City, KS 67801.
Read the complete vision under the "Vietnam Memorial Dedication" tab
*******************************
President Glass has posted her Christmas Message under "The President's Page" in the left menu bar.
Mass Email #93 was sent December 12, 2021.
Merry Christmas and Happy New Year to all our faithful alumni from your alumni officers, Janet, Beverly, Larry and Cody.
At this summers "All School Reunion" a survey was taken on the future of our alumni association. You can read the results by clicking "Survey"

A new tab has been added that describes a great opportunity for a 50% scholarship at Kansas Wesleyan University for alumni children and grand children. See photos of the Vietnam Memorial dedication on its tab.

The Vietnam Memorial dedication took place on June 12th. Please click on the "Vietnam Memorial Dedication" tab in the left menu bar to view pictures.

About The Emails We Send
Your email address is important to us -- and we protect it. It is not available to anyone visiting our website. Even registered users cannot see your email address. They can only initiate an email to you through this website.
All emails sent from this website use the sending address of "noreply@classcreator.net" This is the hosting company we use for this website. They also protect your email address in many ways. And they take every effort to make sure emails from our website reaches you.
All Internet Service Providers (ISP) and email services such as Yahoo and Gmail offer screening services for incoming emails. YOU have control over which emails will be allowed to pass in one of three ways.
You can "whitelist" a specific email address by adding it to your approved list.
If you find an email you wanted to receive in your 'bulk mail' or 'spam' folder, you can click and indicate that it is NOT spam to you.
You can add "noreply@classcreator.net" to your list of email addresses/contacts
You've trusted us with your email address. Please make sure you are receiving our messages by checking your spam or bulk mail folders and by approving noreply@classcreator.net as a sender. Please do the same for smopalumni@gmail.com

Click on "Reunion Slide Shows" in left menu bar to see pictures of the July 4th-- All School Reunion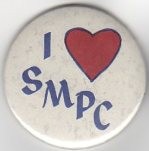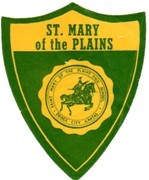 We Need Your Donations

The Alumni Association depends entirely upon your donations. Please consider a $20 annual membership remittance to help support this site. This site will be our main means of correspondence with all SMOP alumni from July 2009. We have committed to a 10 year contract to maintain this site. Your donation will help to assure we will continue to bring you all the current information regarding St. Mary's and 6,000 of your alumni brothers and sisters. Our address is St, Mary of the Plains Alumni Office, P.O. Box 416, Dodge City, Kansas. 67801 Thank You!
ANNOUNCEMENTS
•

It's that time of the year when we reach out to the Association to help up clean up our bounceback emails. If you know any of the following, please encourage them to update their email address. If you know for certain they are deceased, please let us know that too. Thanks for your help!

1950s

Alice Simmons (Secrets) (1954) Mary Ida Helfrich (Heskamp) (1954) Leyola Simmons (Stewart) (1956) Adrian Milford (1957) Virginia Berning (Knobbe) (1959) Claire Stramel (1959) Judy Diegel (Holbrook) (1959)

1960s

Christine Hirsh (Wright) (1960) Joseph Ramsey (1960) Willis Lanzrath (1961) Leroy Lutz (1962) Mary Lynne Dolembo Mangan (1962) Mary Miller (Botoms) (1963) Zita Oberle (1963) Robert Hicks (1963) Judith Hicks (1964) Helen Pfau (Lechman) (1964) Andy Stramel (1965) Larry Heinz (1966) Michael Stramel (1966) Leo Vap (1967) Catherine Lix (Barnes) (1967) Norma Strode (Cregan) 1969 Joe Barnes (1969) George Tignor (1969) M Van Gemmill (1969)

1970s

Annette Tressell (1970) Danny Nee (1971) Robert Cellitti (1971) Philip Brady (1971) Michaeline Huston (Agnese) (1972) Eileen Holloran (DiGerolamo) (1972) Maurice Linden (1972) Sara Cecil (McCormic) (1973) Janine Kokjohn (Funk) (1974) David Novack (1975) Stan Zienkewicz (1975) Kay Barber (Hanson) (1975) Dorothy Mueller (Leiker) (1976) Cheryl Smith (Brown) (1977) Dawn Messing (1977) John Reilly (1978) Rebecca Hartpence (Zarnowski) (1978) Vicki Pahl (1978) Loren Youngers (1978) Nicholas Fergerson (1978) Maureen Doherty (Huppe) (1978) Mary Catherine Koons (White) (1979)

1980s

John Pahl (1980) Rebecca Herman (Bredfeldt) (1980) Diane Krier (Marrs) (1981) Keri Black (1983) Teresa Herrell (Frieb) (1982) Karen Mumma (Blasi) (1982) Frances/Frankie/Leahann Wilson (Snow) (1982) Jerome Thompson (1983) Bob Waldman (1984) Kelly Backues ( Newby) (1984) John/Jack Kelly (1984) Teresa Klee (Erickson) (1984) Ruth Spexarth (Hommertzheim) (1985) Heidi Stevenson 1985) Amy Ellington (1985) Rebecca McMullen Peitz (1985) Lynn Gleason (1985) Brenda Wheeler (Watson) (1986) Lynee Habiger (1986) Nenneth Dempsey (1987) Paul Klene (1987) Lisa Leeker (Riese) (1987) Robert Lyall (1988) Anita Bker (Perkins) (1989) Jeffery Geist (1989)

1990s

Kay Barringer (1991) Amy Austin (Pavlacka) (1991) Lisa Penka (1991) Mark Littlechild (1991) Sandra Villa (1991) Ray Aragon (1991) Bret Jepson (1992) Timothy O'Donnell (1992) Travis Betz (1992) Janet Ptacek (1992) Irene Perez (1992) Sally Odom (1992) Kathy Keeley (1992) Amy Falcon (1992) Robin Ford (1992) Kristen Scott (Shirley) (1993)

Staff/Others

Kathryn Kaspers (Lehner) (Staff) Stanley R Irvine (Staff) Raelene Hayes (Staff) Brian Sartorius

•

This site is and will be under construction probably forever!

•

In need of a transcript? Transcripts are now housed at Kansas Wesleyan University in Salina Kansas. To get a printable PDF form "Click Here"
Please specify you want a St. Mary of the Plains transcript.

•

•

| | |
| --- | --- |
| | For our alumni who had friends or relatives killed in the Vietnam war, you can view that persons profile and other information by clicking on the following link. Just click on their home state and then the city for their home of record. For instance: Alumnus Jim Nufer HS'65, my classmate, was killed. Click on Kansas then Dodge City then his name. http://www.virtualwall.org/iStates.htm |

•

A printable Invitation Letter to join our site is now available to all alumni who have need of a "hard copy" to mail to classmates. Please make a copy and include it in your Christmas cards. It's in PDF format, allow time to load.
For a copy of the alumni letter

Click here




•

Association Officers

At the annual meeting of the alumni association, July 4 2009, the following alumni were elected to three year terms. Alumni Director Emeritus Janet Kliesen, Alumni President: Dr. Beverly Schmitz Glass C'76, and Treasurer/Webmaster Larry Noller. Nominations for new officers to be elected at the Alumni Business Luncheon scheduled for Saturday, June 2, are now being accepted! If interested in submitting your name to appear on the ballot, contact President Glass at glass@gcnet.com by Friday, May 18, 2018!

•

| | |
| --- | --- |
| | Help Spread The Word: For those of you who are still in touch with former classmates/alumni, your parents, brothers and sisters, relatives or friends of St. Mary's, please send them an email and let them know about this site. Classmates.com boast 350 SMOP alumni have joined their site. If you belong please tell them about our site. |

•




| | |
| --- | --- |
| | Any alumni of St. Mary's that went to or attended Windthorst Kansas High School are invited to check out the New Windthorst website at: |

•

This site was started on March 14, 2009 and opened for business on April 1. As of April 1, 2018, nearly 1,500 alumni, instructors and staff have joined up. Any ideas or suggestions you may have please feel free to email me at the "Contact Us" tab. There is still much left to do. Please be patient!